SPIRIT SPEAKS WITHIN YOU by Kelle Sutliff Receives Warm Literary Welcome
Readers' Favorite gives SPIRIT SPEAKS WITHIN YOU by Kelle Sutliff 5 STARS! 
Press Release 
FOR IMMEDIATE RELEASE 
Boston MA, July 29, 2022 -Readers' Favorite announces the 5 STARS review of the Non-Fiction – New Age book SPIRIT SPEAKS WITHIN YOU The Awakening Guide to Tap Intuition, Gain Validation and Increase Healing by Kelle Sutliff, currently available at Amazon and other book selling sites.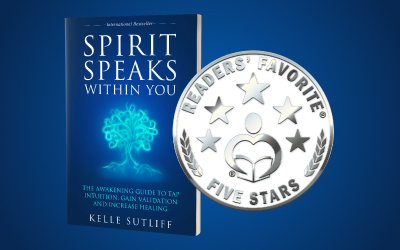 Readers' Favorite is one of the largest book review and award contest sites on the Internet. They have earned the respect of renowned publishers like Random House, Simon & Schuster, and Harper Collins, and have received the "Best Websites for Authors" and "Honoring Excellence" awards from the Association of Independent Authors. They are also fully accredited by the BBB (A+ rating), which is a rarity among Book Review and Book Award Contest companies.
Reviewed By Pikasho Deka for Readers' Favorite
"In recent years, especially with the advent of the Covid-19 global pandemic, people all over the world have become increasingly prone to much more anxiety, stress, and a sense of restlessness. Spirit Speaks Within You: The Awakening Guide to Tap Intuition, Gain Validation and Increase Healing, psychic medium Kelle Sutliff seeks to instill the belief in readers that the Divine is within them. If they just listen to their inner voice, it will help them navigate life's biggest obstacles. According to the author, fear is the primary ingredient that keeps you stagnant and prohibits you from freeing your conscious mind. On the other hand, your psychic instincts and spirit encourage you to be open to new ideas and experiences. Sutliff urges readers to merge with the flow of the universe to become kind and compassionate individuals and live their lives to the fullest.
Spirit Speaks Within You is a self-help guide to awaken your inner spirit, tap into your intuition, and use those attributes to heal yourself of trauma, anxiety, and stress. Kelle Sutliff provides valuable insights, tips, advice, and affirmations to help readers become one with their psychic instincts and move forward with the guidance of their spirit. Sutliff also holds the view that the increasing use of electronic devices by children stunts their spiritual growth to some extent. Instead, she urges parents to encourage their children to connect more with nature. In today's world of social media, global pandemics, and the increasingly volatile nature of politics, books like this are like a balm for your soul. Highly recommended."
You can learn more about Kelle Sutliff and Spirit Speaks Within You at Readers' Favorite where you can read reviews and the author's biography, as well as connect with the author directly or through their website and social media pages.
***
Readers' Favorite LLC
Media Relations
Louisville, KY 40202
800-RF-REVIEW
support@readersfavorite.com
https://readersfavorite.com
###