"Enriching clients lives who are at a crossroads, experiencing unresolved issues or dealing with loss by offering inspiration, comfort, and closure through psychic and spirit communication."
The Other Side Is Talking…
Psychic Medium Kelle Sutliff Has Been Seen On



Kelle Sutliff is a Psychic Medium, Author and successful Radio Show Host who has been a practicing Medium for over eighteen years. She conducts private readings and consults as a psychic investigator using her expertise on missing person cases for Private Investigators, individual families, and National Missing Persons Organizations.
Kelle Sutliff's newest book Spirit Speaks Within You available on Amazon quickly became a best seller and is a gold recipient of the Mom's Choice Awards® honoring excellence. Her first book, Listen Up! The Other Side Is Talking has won the international honor of The Mom's Choice Award and the Readers' Favorite book award and is  available on Amazon, Barnes & Noble and all major book selling websites.
"Kelle is a women of integrity… a rare quality. Indeed, she has an authentic gift."
"Kelle is AWESOME!! She made me feel super comfortable right away… I can't wait to go back!"
"Kelle was amazing and fun! Highly recommend! I paid for an hour, but it went over and I never felt rushed."
Explore The Ways Kelle Can Help You
Providing services designed to help when you are at a crossroads, experiencing unresolved issues or dealing with loss.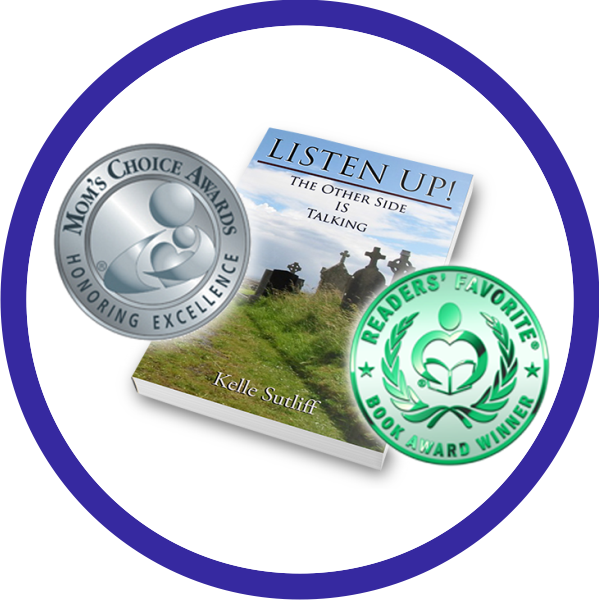 Award-Winning Books
Providing insights and understanding how psychic mediums do the work and how to recognize your own abilities.
Booking A Reading With Kelle Is Easy!
Select Length of Reading
Choose the length of reading you prefer. 
Select Date & Time of Reading
Select the date and time of reading, provide your details, and choose to have your reading on the phone, FaceTime, Skype, or in-person.
Pay for Reading
After selecting the date and time of your Reading, you will automatically be brought to the payment process.
Contact Kelle At Time Of Reading
Once your date, time, and payment are complete, you will be brought to a confirmation page with details on how to contact Kelle at your designated appointment time.
"I have had Kelle on my show Nightside several times and every time she is a guest she connects with our callers and listeners.
Kelle is the real deal in her line of work."
Dan Rea
CBS Talk Show Host
WBZ Boston Nightside with Dan Rea
Ready for Your Reading?
Kelle Sutliff is a sought after internationally renowned Psychic Medium enriching clients lives who are at a crossroads, experiencing unresolved issues or dealing with loss by offering inspiration, comfort, and closure through psychic and spirit communication.