OnlineBookClub.org Give "SPIRIT SPEAKS WITHIN YOU" by Kelle Sutliff a 4 out of 4 Stars Book Review
OnlineBook Club.org Review " Spirit Speaks Within You" by Jones Leeh 
Press Release 
FOR IMMEDIATE RELEASE 
Boston MA, August 19, 2022 – OnlineBookClub.org give the highest 4 STARS review for the Non-Fiction – New Age book SPIRIT SPEAKS WITHIN YOU The Awakening Guide to Tap Intuition, Gain Validation and Increase Healing by Kelle Sutliff, currently available at  Amazon and other book-selling sites.
"I rate the book 4 out of 4 stars… I recommend it to people who would love to read more about the power of our intuition and other provocative lessons." – Jones Leeh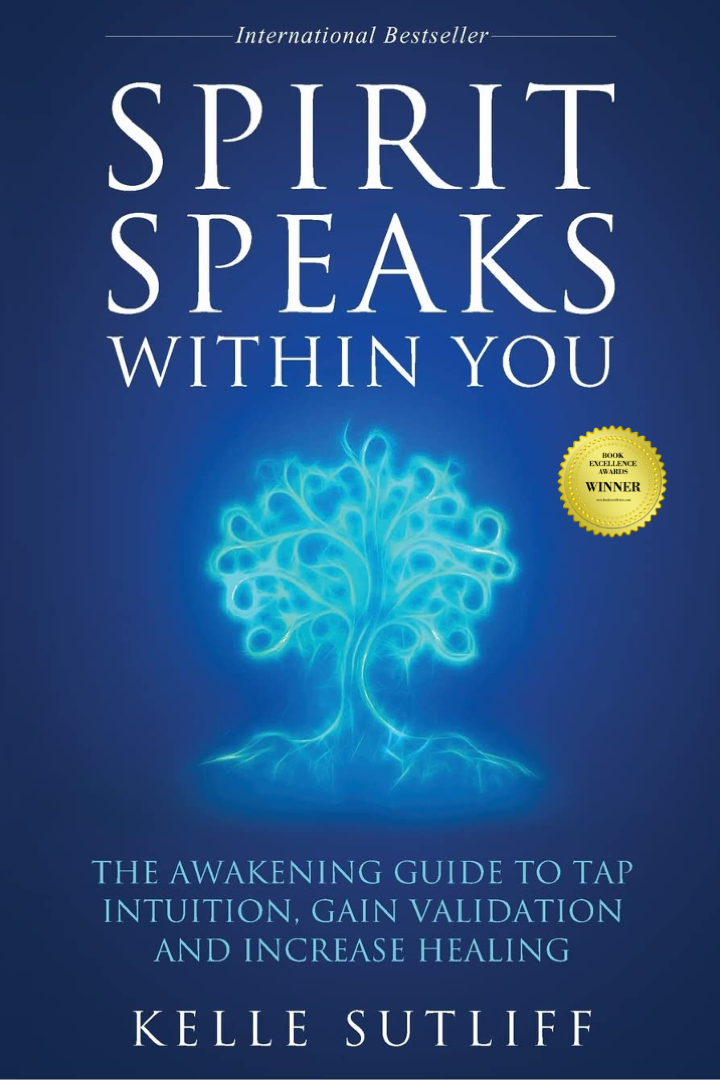 Official OnlineBookClub.org review of "SPIRIT SPEAKS WITHIN YOU" by Kelle Sutliff
By Jones Leeh
4 out of 4 Stars
"The author started the book off with some seriousness and biblical scriptures. I even wondered whether it was an ideal read for me. Then I began devouring it. At some point, I could not resist laughing out loud. For instance, the author compares herself with Wonder Woman but with tinier boobies. I laughed hysterically, and in return, I felt relaxed.
"Spirit Speaks Within You" brings into attention the power of intuition. Preferably, Kelle Sutliff calls it "Spirit." When an antelope is grazing in the fields and a predator approaches, it senses the environment and is on the watch out. It is the antelope's intuition that guides it. Similarly, when we keep dogs in our homes, they understand when we talk to them though they cannot respond verbally. Kelle tells us to listen to that inner voice speaking to us. God gave animals intuition. Then humans have a much stronger "Spirit."
The author notifies us that intuition grows, just like our physical bodies. However, growth demands trust to nurture intuition. As a seed evolves into a magnificent flower, so will our intuition. There are additional discussions about destiny, an explanation of the term "FLOW," and some flashback encounters.
I enjoyed the humor and practical examples the author employed. She made it easy to follow and informed us that we should listen to our intuition rather than search for answers from Google. Now and again, Sutliff used slang language like "a chick" to suggest a girl, which made the book quite entertaining.
The author shares strong words that can help you during stressful times. One thing I appreciated was the numerous quotations from various people. When an author includes different excerpts, it shows they acknowledge the works of others and are not self-entitled.
I noted no grammatical errors. Therefore, " Spirit Speaks Within You" is well edited. One lesson that moved me was about freedom and liberty. We are encouraged not to allow negative energy around us. "Spirit" wants to be in a free environment. Kelle gives her thoughts on the unfortunate deaths of 9/11 and those during the COVID-19 pandemic. She says, "They all were meant to leave at the same time." That was a thought-provoking statement. I rate the book 4 out of 4 stars because I found nothing to disdain. I recommend it to people who would love to read more about the power of our intuition and other provocative lessons."
***
Read Original "Spirit Speaks Within You" Review at OnlineBookClub.org
For more information about SPIRIT SPEAKS WITHIN YOU, contact:
Kelle Sutliff
(978)-420-8213
By email at Kelle@PsychicMediumKelle.com
Or visit www.psychicmediumkelle.com
###