Internationally Renowned Psychic Medium, Kelle Sutliff, Honored as a Winner in International Book Contest
Spirit Speaks Within You: The Awakening Guide To Tap Intuition, Gain Validation and Increase Healing by Kelle Sutliff is recognized for excellence in writing, design and overall market appeal.
Press Release
FOR IMMEDIATE RELEASE
Boston MA, July 7, 2022 – SPIRIT SPEAKS WITHIN YOU: The Awakening Guide To Tap Intuition, Gain Validation and Increase Healing by Kelle Sutliff is a revolutionary book that offers ordinary people the chance to reach extraordinary states of being through connection to spirit. Through powerful stories, revelations, and tips, Sutliff inspires readers to tune in and listen to their own intuitive voice.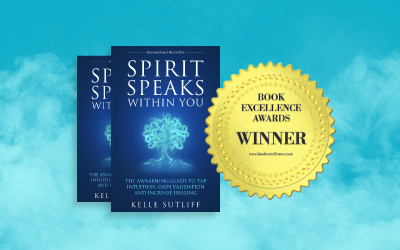 SPIRIT SPEAKS WITHIN YOU was named a Winner in the Body/Mind/Spirit category of the 2022 Book Excellence Awards. The awards competition recognizes both independent and traditionally published authors and publishers from over 100 countries around the world.
"Winning this award shows me that the message of "Spirit Speaks Within You" is there and that readers need to hear it! I am thrilled for Book Excellence to honor it," says author, Kelle Sutliff. Combining over eighteen years of Sutliff's knowledge as an internationally renowned Psychic Medium, Sutliff's inspiration for writing the book was to help readers transform their lives for the better. "Spirit Speaks Within You can change your life. You will stop overlooking or minimizing the voice of instinct and intuition, bringing powerful good to you and others."
After reading, Spirit Speaks Within You, readers will learn how to open their own direct line of communication with the Divine, and wake up to their own abilities. In times of stress and uncertainty, life can feel unbearable, especially when you don't tap into your intuition. With humor and grace, Sutliff reminds readers that one of the healthiest decisions they can make is to seek a better understanding of their psychic development. This helps readers embrace the remarkable energy inside them to awaken to their true potential and live the life of their dreams.
The book has received positive reviews from some of the most well-renowned authors, journalists, and reviewers around the world. Jani Guest, CEO of Creators, wrote, "Kelle has given us all the most wonderful gift. She has given every reader the tools to tune in and listen to our own guides, so that we may navigate life's challenges, and create the very best outcome for a rich and meaningful journey…her ability to hear and channel Spirit is a true blessing."
With years of wisdom distilled into an accessible, profound, and engaging book, Sutliff presents a revolutionary way of finding your own intuitive voice and the opportunity to achieve nothing less than a life of joy. Spirit Speaks Within You is available for sale on Amazon, Barnes & Noble, Apple iBooks, and other online bookstores. Readers who would like to connect with Sutliff directly are encouraged to visit her website at: http://www.psychicmediumkelle.com
About the Author
Kelle Sutliff is a gifted Psychic Medium who has worked in her industry for over eighteen years. She uses her work to show people that the psychic world is very real and offers inspiration and comfort to those dealing with grief. She also works as a Psychic Investigator consulting nationally and internationally with missing persons and cold cases. In her career, she has worked with Boston University on the Cold Case Collective Group, National Group Find Me 2 and privately with detectives and individual families providing accurate information to find the missing.
Kelle is the author of the international bestseller, SPIRIT SPEAKS WITHIN YOU: The Awakening Guide to Tap Intuition Gain Validation and Increase Healing which is a gold recipient of the "Mom's Choice Awards®" and winner of a 2022 Book Excellence Award. Listen Up! The Other Side IS Talking has won the internationally acclaimed "Mom's Choice Awards®" and "Readers' Favorite" book awards.
Kelle co-authored with Jack Canfield (Chicken Soup for The Soul Series) in Pearls of Wisdom 30 Inspirational Ideas to Live Your Best Life Now! Her contributing chapter taught her readers how to get their Daily Cup of Calm. An area of expertise she uses teaching clients how to "ground" themselves, to create the healthy environment that they want to live in.
***
For more information about Spirit Speaks Within You contact:
Kelle Sutliff
(978)-420-8213
By email at Kelle@PsychicMediumKelle.com
Or visit www.psychicmediumkelle.com
###