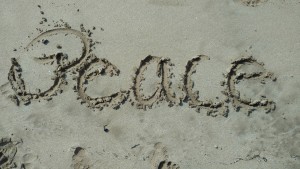 I think growing up Catholic one of my favorite part of the mass was turning to a neighbor and saying the phrase; "Peace be with you". Strangers let their guard down to give peace to their neighbor. (Except during the cold season.)  "Peace be with you" really means peace in you for others. It's the sacred gesture in many faiths.  Just those four little words "peace be with you" reminds you to garner your peace and calm, cherishing the peace in you and others. It always amazes me how that gesture can manifest such goodness in you. Then when everyone leaves the service they are back to their old selves trying to get out of the parking lot but for that wee moment that room felt peace.
When my teenagers are being teenagers the one common theme I say to them is "Find your peace".  I say this line to my husband sometimes too. It stops them right in their tracks—no kidding!  It gives them that pregnant pause to reconnect with their mind and emotions going off in all directions making them kinetic.
As adults to help "Find Your Peace" when you are hyper and angry just say; "I am peaceful".  It is that simple. Watch and feel your body react with ease. You are giving to yourself that pregnant pause to grab your calm, your peace. Who doesn't want that? When you say "I am peaceful", you have just told your body to motor down and relax.
Most people want peace in the world.  We are constantly bombarded with news media showing us war, terrorism, hate, and praying on fear. We need to at least have an inner calm of peace to survive it all.
We are growing up in a different world today and most of us want world peace. If we can't have world peace we can at least achieve inner peace and watch how we adapt to a different world. That is my wish for my family my friends and for you. Now find your peace for your day.